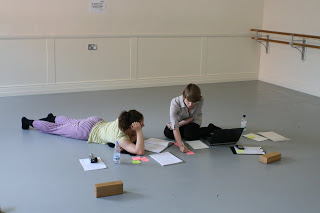 Following a long gap since our last Made By YOU project with young choreographer Alexa Mason in 2011 (see what Alexa's up to now), we're thrilled to announce we are offering another opportunity for a talented young choreographer to create work that will be presented alongside forthcoming performances of The Imagination Museum.
Katie will be mentoring young choreographer Megan Otty, currently studying at Dance City in Newcastle (see the work Megan Otty produced as part of Youth Dance England's Young Creatives 2015 here) to create her own response to the artefacts on display at the Discovery Museum.

Her response will then be integrated within Katie's professional work The Imagination Museum for schools performances at the museum on the 20th May and public performances on the 21st May. This collaboration is part of Katie's research into new ways to work with dance into museums and to involve young people as part of that work.

Megan's work is called Something New and will be performed by Katie Bardsley, Benedicta Valentina, Lila Naruse and Kiran Kumar.
Megan says about the work:
"Imagine leaving home. Imagine not knowing if you will return to your family again. Imagine building your life somewhere new". During the late nineteenth and early twentieth century emigration to the North East of England was high with many travelling from different places in the search for better jobs, better wages: an altogether better life. This piece is an exploration of the feelings of excitement, uneasiness and curiosity which come about with the idea of leaving a place of familiarity and going somewhere new. The playfulness between family and friends on their travels to the train station, experiencing a new journey in their lives, alongside the apprehension and sometimes chaos of packing up and traveling elsewhere which coincides with the adventure. An insight into the unknown…

The Dancing in Museums project is supported by the National Lottery through Arts Council England.