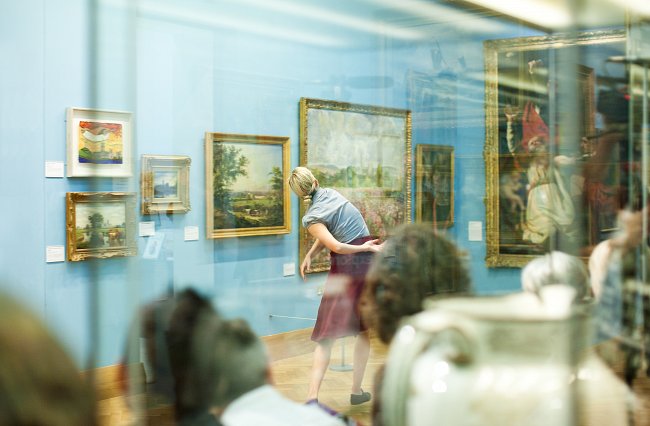 From May – July 2017, choreographer Katie Green will be collaborating with curator Helen Hillyard to create a new promenade performance piece that will connect the newly commissioned Pavilion in the grounds of Dulwich Picture Gallery with the main gallery space.
Responding to the 'Private Made Public' focus for the gallery's bicentenary year, the piece will integrate text and movement, taking the form of a danced 'tour' and exploring work from the gallery's permanent collection as well as stories collected from visitors past and present.
We will be holding an invitation only workshop/audition day for this project on-site at the gallery on the 24th April 2017 (10.30-4pm).
This will be a chance to explore the space and early ideas for the work with Katie and Helen, but will also be a recruitment opportunity to find 4 dancers to take part in the final piece. We hope that dancers would find this an interesting professional development opportunity regardless of whether or not we are able to invite them to participate in the final work
Selected dancers would be invited to participate in a 3 week creation and performance process as follows:
Rehearsal:
23rd, 25th, 30th May and 1st June
w/c 12th June, Monday-Friday
w/c 19th June, Monday- Friday
Performances:
23rd June (evening)
14th July rehearsal during the day and performances in the evening
This would be a paid opportunity for selected dancers. Please note that we cannot cover travel and accommodation costs for the project, so you may wish to bear in mind that the rehearsals/performance will take place primarily on-site at Dulwich Picture Gallery or in other spaces local to the gallery.
Application process
We welcome applications from all dancers for the workshop/audition on the 24th April (including those who would like to attend the workshop, but cannot participate in the later rehearsals/performances), but please note that the dancers selected to participate in the final creation process will ideally be:
skilled at creating movement material through improvisation
experienced working site-specifically, especially in museums/gallery spaces
comfortable working with text
engaging performers, comfortable working in close proximity to an audience
able to work quickly, with a good movement memory and capacity to change things in response to direction or to the behaviour of the audience for example
organised, friendly and able to work well as part of a team
To apply, please send:
a link to video of your previous performance work
a short statement (maximum 1 side of A4) outlining why you are interested in this opportunity, and indicating your availability for the project dates
a CV (maximum 2 pages)
to katie@madebykatiegreen.co.uk by 13th April 2017 at 5pm.
We will send invitations to the applicants we would like to attend the workshop as soon as we can after the 13th April and by the 18th April at the latest.
This project is subject to funding, but the workshop on the 24th April is not dependent on our funding outcome.