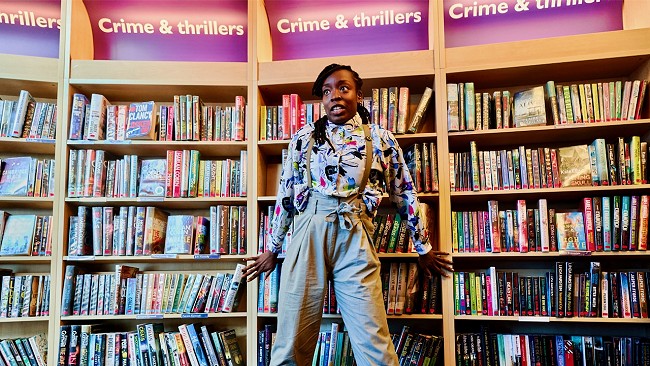 Since April 2019, Made By Katie Green has been working with the wonderful folk at Delight to create and share the Delight in Libraries project with year 2 and 3 children in primary schools across Surrey.
The project consists of an initial professional performance encounter called The Story Detectives, performed by Amarnah Amuludun and Megan Griffiths (which from November 2021 will return to live performances, but take place in school halls rather than in local libraries for the time being). The children are then taken through a half term of workshops leading up to creating their own short performance in response to The Story Detectives.
You can see a trailer from our filmed version of The Story Detectives created in lockdown in collaboration with Wigglyline Productions here:
We are looking for dance artists to join our Delight in Libraries team, and particularly to support the 6 weeks of in-school activity leading up to the children's performances. We would like to invite up to 3 dancers to join us for our forthcoming training for the 2021/22 programme content (this training would be a paid opportunity). Our activity with schools is then taking place in 2 blocks this academic year:
Autumn 2: from the week of the 1st November to the week of the 6th December 2021,
and Summer 1: from the week of the 19th April to the week of the 23rd May 2022.
It may be the case that not all 3 artists invited to attend our training day would receive a regular school placement for the first half term of delivery from November 2021. This would depend on the more experienced team members' availability and the days we need to cover. However, we hope the training day would still provide an interesting development opportunity and a chance to work with the company, and that having received the information about the programme you would be happy to be contacted to cover sessions in the future.
All training and work in schools will happen in Surrey. Fees for the Delight in Libraries project are £168/day (or £84/half day) + Holiday Pay at 12.07% (where a full day usually means 9-3.30pm approximately and a half day may be 9-12 or 1-3.30pm) and travel costs will be covered. Additional time for attending planning and/or reflection meetings would also be covered.
Key dates:
21 September – training day with the company, 10-5pm, venue near Woking tbc.
If you are interested in the opportunity but wouldn't be available on the 21st September for the training, we could alternatively run an additional training session on the 17th October, 10-5pm, so just let us know about this in your expression of interest.
1 – 5 November – first week of project in schools – the sessions in this week would be led by Katie Green, Amarnah Amuludun and Megan Griffiths, but it may be of interest for new recruits to also attend a session at some point in this week to have a better overview of the whole programme.
w/c 8 Nov – w/c 6 December – weekly activity in schools leading up to children's performances

w/c 18 April (not including Easter Monday) – w/c 23 May – activity in schools leading up to children's performances; at this point some of the schools participating in the programme will be undertaking the 'teacher development' version of the project, meaning that we won't be needed to attend every week, as the teachers will lead on some of the content.
Ideal applicants will:
have experience working with dance, movement and story-telling with primary school aged children (particularly Key Stage 2, aged 7-11) or be willing to engage in reflection and training around best practice in these settings
have an engaging presence and capacity to inspire and excite a young audience
have excellent communication skills, with an understanding of the importance of positive reinforcement and empowerment when working with young people as well as strategies to manage behaviour and create a safe space in which everyone can work to the best of their ability
be organised, friendly and able to work well as part of a team, including contributing to reflection points for the project along the way
be open to supporting class teachers in their own professional development throughout the programme (supported by Katie Green, who leads on the planning and CPD parts of Delight in Libraries with school teachers)
be based in Surrey or local and willing/able to travel to schools in the county
have an up-to-date DBS check, or be willing to undergo one before starting the project
have an interest in maintaining a relationship with the project in future academic years
It may be helpful, although not essential, if you have access to your own car.
To apply
If you are interested in the project, please contact katie@madebykatiegreen.co.uk by 5pm on the 12th September providing:
a short statement (maximum 1 side of A4 or short email) outlining why you are interested in this opportunity, and indicating your availability for the project dates (please give details of which of the potential training sessions you may be available to attend and days of the week (morning and/or afternoon) when you could be available to teach between the 1st November and 10th December and the 19th April and 27th May)
a CV or link to other profile of your work e.g. website, blog, showreel, LinkedIn page
Made By Katie Green welcomes applications from all artists – please tell us on katie@madebykatiegreen.co.uk if you need any of this callout information supplying in a different format or have any questions, or if you would like to make your application in a different way.
We look forward to hearing from you!
Please note that we will keep details of your application on file until the recruitment process is completed and then we will only keep your contact details if you give us your consent to do so by signing up to our mailing list at the bottom of the page here - https://madebykatiegreen.co.uk/ . For further information about our Privacy Policy please visit https://madebykatiegreen.co.uk/privacy-policy.
The Delight in Libraries project is commissioned by Delight, devised and delivered by Made By Katie Green and supported by the National Lottery through Arts Council England.