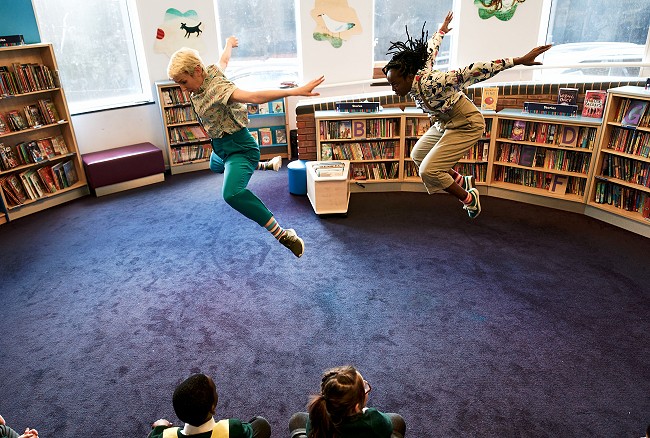 Since April 2019, Made By Katie Green has been working with the wonderful folk at Delight to create and share the Delight in Dance project with year 2, 3 and 4 children in primary schools across Surrey.
The project consists of an initial professional performance encounter called The Story Detectives. The children are then taken through a half term of workshops leading up to creating their own short 'Hero and Villain' performance in response to The Story Detectives.
You can see a trailer from our filmed version of The Story Detectives created in collaboration with Wigglyline Productions here, to get a sense of the piece: https://vimeo.com/477380061
We are looking for a dance artist to join us as an understudy, learning the 2 roles in The Story Detectives, and then supporting the company when we perform the school hall-based version of the piece in February 2023 (key dates below). Subject to funding, we will have performances of The Story Detectives from October 2022 through to July 2023 across the South East and South West regions, so although there aren't any confirmed performance dates associated with this role at this stage, the understudy may be called upon to cover the 2 cast members at any time within that period as needed (and subject to the understudy's availability).
There may also be an opportunity to join us in other elements of the delivery of the Delight in Dance programme, but in the first instance we're interested in finding the right person to take on these roles of understudy and production support.
We want our creative team to reflect the communities with which we work. We actively encourage applications from performers of Black, Asian or other Global Majority ethnicities, those living with disabilities, who are neurodiverse, from low-income backgrounds, and who identify as LGBTQI+, and welcome applications from all artists.
We have experience working with individuals with a range of cultural, physical and mental health backgrounds but are also keen to keep understanding ways that we can better support all of the people with whom we work. Subject to funding, we're hoping to invite all of the cast and company to attend a Diversity and Inclusion workshop during rehearsal, as part of setting up a working environment in which everyone can feel free to do their best work; opening up discussion and reflecting on the ways in which we communicate with our participants, audiences, partners and collaborators.
Key dates:
Application deadline 26th August at 5pm.
Shortlisted applicants will be invited to attend an audition on Saturday 10th September in Woking, from 10.30-1.30pm, venue tbc. Travel expenses will be covered for those travelling from outside of the county.
10th – 14th October – rehearsal. Studio-based (near Woking) on the 10th October then at Ashburton and New Addington Libraries (Croydon) from the 11th – 14th October
w/c 31st October (optional - please note this is an update to the dates that were originally published) – the selected artist may wish to attend one of our performance days in this week, in order to have an opportunity to see how The Story Detectives works with the audience.
30th January – 3rd February 2023 – rehearsal. Studio-based (near Woking), working specifically on the adaptation of The Story Detectives for school halls, for which we work with a set.
6th – 10th February – production support for performances of The Story Detectives in school halls across Surrey. Supporting Katie Green with set-up and running the show then packing up following short workshops with the school children.
Fees
Fees for the Delight in Dance project are £575 + Holiday Pay at 12.07% for each rehearsal or production support week, meaning without the optional visit in the week of the 31st October the total fee would be £1,725 + £208.21. Travel and any accommodation expenses required for work outside of London will also be covered.
Additional time for performances, or attending planning and/or reflection meetings would also be covered.
Ideal applicants will:
have experience working with dance, movement and story-telling with primary school aged children (particularly Key Stage 2, aged 7-11) and be willing to engage in reflection and training around best practice in these settings
have an engaging presence and capacity to inspire and excite a young audience
be able to pick up existing movement material and text readily, but also to make it their own, devising new material where needed
have excellent communication skills, with an understanding of the importance of positive reinforcement and empowerment when working with young people as well as strategies to manage behaviour and create a safe space in which everyone can work to the best of their ability
be organised, friendly and able to work well as part of our team
be willing/able to travel to rehearsal/school locations in Croydon, Surrey and across the South East/South West if called upon to cover other performances in The Story Detectives tour
have an up-to-date enhanced DBS check, or be willing to undergo one before starting the project
have an interest in maintaining a relationship with the project in future years
To apply
If you are interested in the project, please contact katie@madebykatiegreen.co.uk by 5pm on the 26th August providing:
a short statement (maximum 1 side of A4 or short email) outlining why you are interested, and why you think you would be well suited to this opportunity.
a CV and/or link to other profile of your work e.g. website, blog, showreel, social media page.
Please also indicate:
your availability for the project dates. If you are not available for the audition on the 10th September, do get in touch in case we arrange any alternative sessions.
if you can drive and have access to your own car (not essential)
We do not want the application process outlined here to present any barriers to you being able to make an application, so please contact us (at katie@madebykatiegreen.co.uk) if you need any of this callout information supplying in a different format or have any questions, or if you would like to make your application in a different way.
We look forward to hearing from you!
Please note that we will keep details of your application on file until the recruitment process is completed and then we will only keep your contact details if you give us your consent to do so by signing up to our mailing list at the bottom of the page here - https://madebykatiegreen.co.uk/ . For further information about our Privacy Policy please visit https://madebykatiegreen.co.uk/privacy-policy.
The Delight in Dance project is commissioned by Delight and devised and delivered by Made By Katie Green.