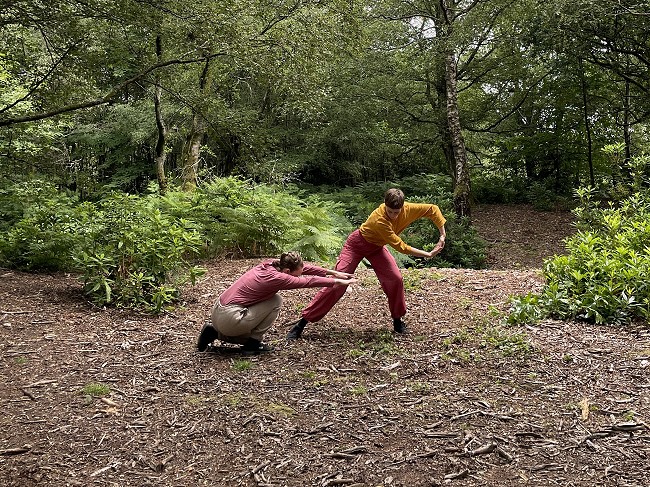 From January to July this year, Katie used a Developing Your Creative Practice Grant (DYCP) from Arts Council England to research a new choreography/archaeology collaboration called 'A Gathering Place'.
You can read a bit more about this research in the blog post here.
The research took place with the 'Big Dig' Field School in Dorset and Holmbury Hill in the Surrey Hills, and included:
interviews with a great range of brilliant archaeologists
practical experience on-site at the excavation of a Durotrigian Iron Age settlement at Bournemouth University's 'Big Dig' near Winterborne Kingston and with Surrey Archaeological Society near Abinger
looking at artefacts from previous 'Big Digs' held at Bournemouth University and more intensive research into previous Iron Age excavations e.g. using academic papers
visits to other archaeological sites across Surrey and Dorset, and the beginnings of discussions with other partners
creative time in the studio and on-site with established and new collaborators to develop movement, text and music responding to the archaeological starting points
creation of 3 short films shared below
creation of a test performance walk for Holmbury Hill which was part of this year's Festival of Archaeology (also testing an accompanying audio guide), to gather some feedback.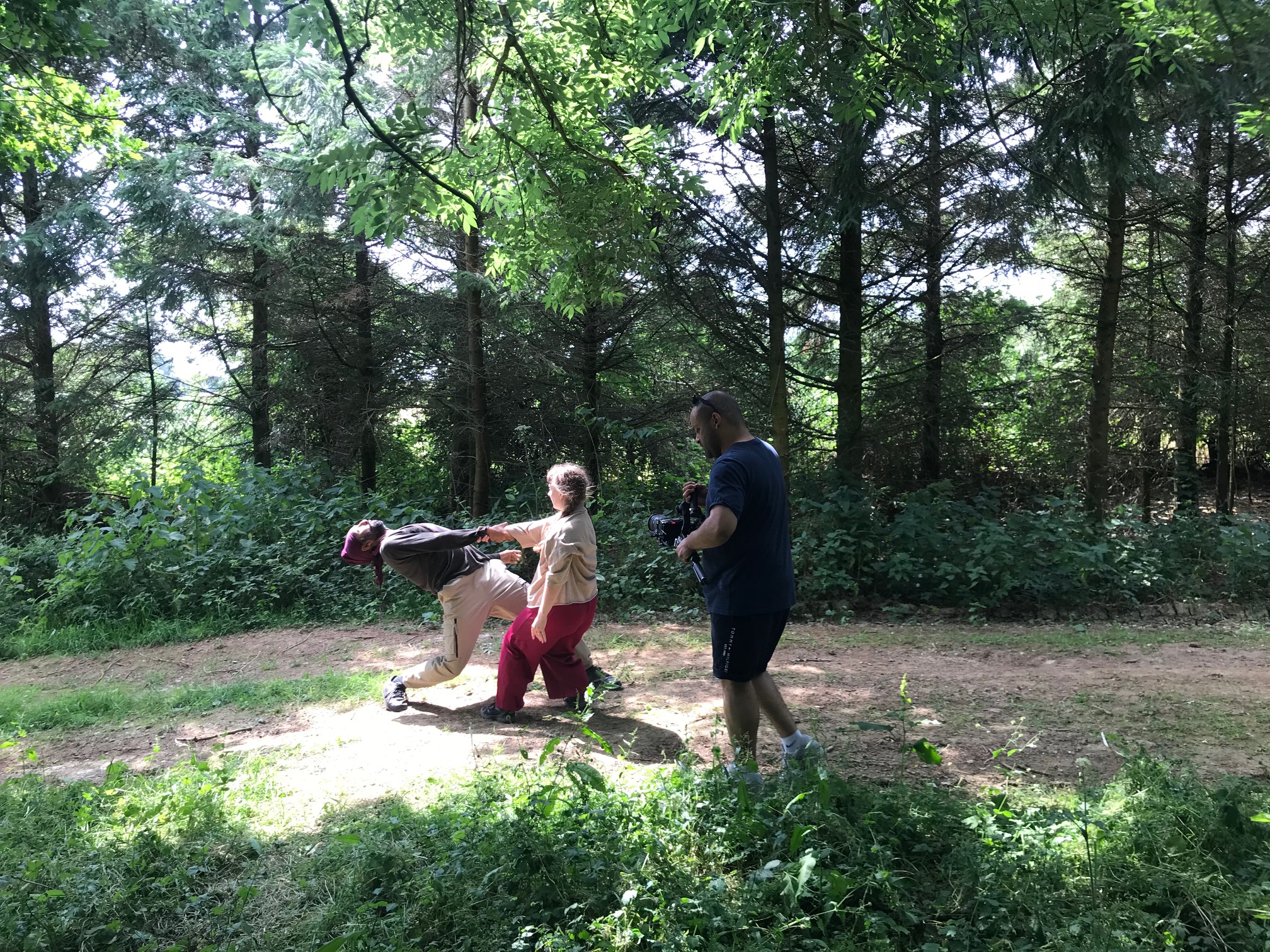 Performers Alice Shepperson and Deepraj Singh; film-maker Dan Martin; photograph Katie Green
We are now thrilled to share 3 short films created during the research period. The intention of these films is to give a sense of the work-in-progress, and what our choreographic responses to archaeology could look, feel and sound like in the future, if we can secure further funding to expand the research. They give a taster for the project, and although we're very happy with these 'snapshots' of how far we got during the DYCP research, they are not intended to be seen as fully finished responses.
Firstly, filmed in Dorset:
1. A Behind The Scenes documentary film from the time we spent with this year's 'Big Dig' Field School/Durotriges Project lead by Bournemouth University.
This film provides a bit of information about the Durotriges Project and captures answers to some of the key questions we were asking of archaeologists during the Gathering Place research, such as 'what happens on-site at an archaeological dig?', 'what kinds of finds are being uncovered?', and 'why do you dig?'
2. A short film created in response to the Durotriges site, our interviews with archaeologists and also to a Durotrigian burial found at Langton Herring, called 'A Place of Not Forgetting'.
We highly recommend reading the article here which documents the burial of a woman aged 19-24 at Langton Herring, which was found by a metal detectorist in 2010. A combination of the artefacts recovered and radiocarbon dating gives a range for the burial of c.AD 25 – cal AD 53. The body of the woman was found with "eight beads, five of glass and three of stone, a silvered Roman coin, a copper alloy spiral bracelet or armlet/armring...a decorated copper alloy mirror [and] a set of copper alloy tweezers". Please see a drawing from Ash Thornton's reconstruction of the Langton Herring burial beneath the film.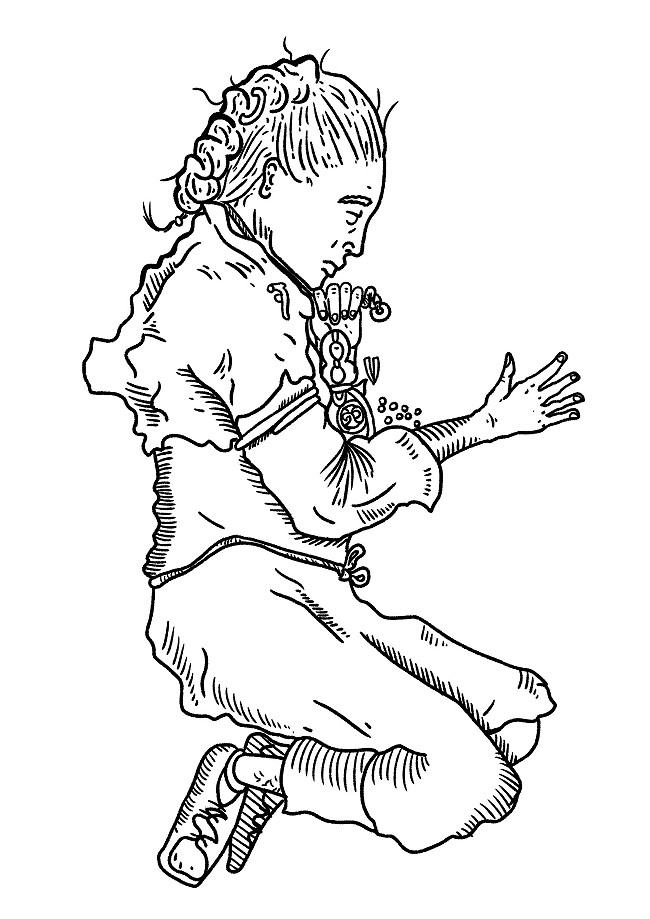 Credits for our Dorset films
Directed by Katie Green
Film direction and editing by Daniel Martin
Choreography and performance for 'A Place of Not Forgetting' by Alice Shepperson and Deepraj Singh
Additional choreography from Megan Griffiths and Emily Yong
Writing by Anna Selby
Composition for 'A Place of Not Forgetting' by Max Perryment
Dramaturg Tom Six

Special thanks to:
Landowner Rebecca Hill and family
The Durotriges Big Dig Team, especially Co-Directors Miles Russell and Paul Cheetham and Megan Russell
Documentary contributors Kerry Barrass, Keir Broughton, Georgia Buckland, Andrea Frankham-Hughes, Will Odling, Lorraine Pither, Megan Russell, Miles Russell, Shelly Sell

The Durotriges project is funded and resourced by Bournemouth University.

________________________________________________________________
3. We also created short film giving the sense of the performance walk we created for Holmbury Hill in Surrey, called 'A Gathering Place'.

This film was particularly inspired by our time on-site and by exploring archaeological surveys undertaken by Judie English and Rose Hooker, e.g. documented in the article here.

Credits for our Holmbury film:
Directed by Katie Green
Film direction and editing: Daniel Martin
Choreographed and performed by Ella Fleetwood and Lucy Starkey
Writing by Anna Selby
Additional writing by Katie Green responding to extracts from Judie English
Composed and performed by Max Perryment and Lou Vilstrup
Dramaturg Tom Six
Special thanks to:
Alison Clarke, Anne Sassin, Judie English and Janet Kingsley
Filmed on location at Holmbury Hill with permission from Mark Beaumont, Hurtwood Ranger.

Our research for A Gathering Place in 2023 was funded by the National Lottery through Arts Council England (as part of the Developing Your Creative Practice programme). We hope there's more to share about development of A Gathering Place very soon!