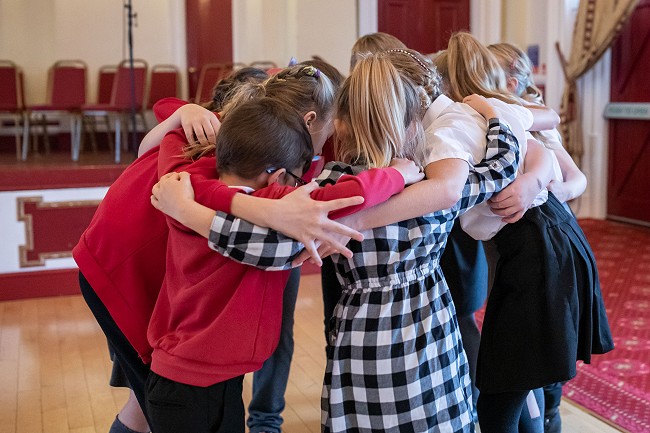 Some thoughts from Made By Katie Green/The Imagination Museum Director Katie Green:

Quite soon into the period of lockdown, I realised that I wanted to write something about Made By Katie Green's position at this time and particularly the state of things for our current Strategic Touring project, The Imagination Museum: Mayflower 400. However, it has taken me a while, and several false starts, to decide what form this should take. I have marvelled at those who have been able to find words and ways to respond so quickly, and many so articulately. I have engaged with different kinds of online cultural offers, and enjoyed them or found them helpful, especially sharing them at home with two little ones. However, I have to admit that for me it has been a much slower process towards feeling ready to connect outwards again.
So this post, which I hope will be the first in a series of updates, is a very personal one, a tentative first step for me. It is really just intended to let all our friends and supporters - those of you who are taking the time to read this - know that we're still here, and that we're trying to remain hopeful about being able to reschedule as much of the activity we've lost as possible (funding-dependent and where it's safe to do so), as well as starting to explore some new approaches to what we do if that becomes necessary.

Firstly, I just wanted to share with you some of the reasons why it has felt hard to face the world again after this unique set-back.
Resilience
For our Imagination Museum: Mayflower 400 project, it has taken 4 years of hard work, careful negotiation/listening, trust-building with partners to get to the point we were at just before lock-down began. We had already employed what felt like an exceptional amount of problem-solving and resilience in the face of funding disappointments, constant changes of plan, changes of availability, at times seemingly impossible recruitment of community groups, high turnover of staff as partners under pressure to streamline budgets had to undergo restructuring, leading to constant renegotiation of relationships with contacts and so on and so on.

To find further resilience at this time, in the face of something so completely out of our control, when all we do all the time is try to remain calm and constructive in the face of constant challenge and change at first seemed unfathomable.

The pain of loss was particularly acute because we were so close to announcing our full programme of events for 2020 when the country went into lockdown, including beginning our collaboration with Red House Museum and Gardens on the first weekend of the Easter holiday, weeks of engagement activity leading up to three Celebration Performances with local communities in Fareham, Aldershot and Christchurch and then a programme of activity in Plymouth starting in Plymstock in May and running through to October. It is a substantial amount of work to disappear for a small company collaborating with freelance practitioners.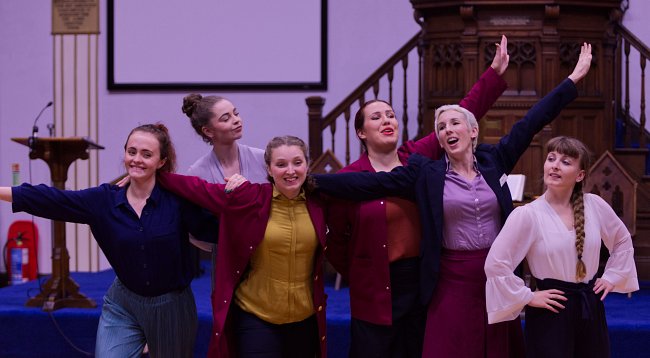 It is always hard to lose the things you had your heart set on

I have been grieving loss of performances, workshops, loss of links with communities, and also the loss of momentum that had been carrying me through towards a goal of finishing the project in October this year. However, my choreographic practice has shown me that sometimes, it can be for the best to make a change, given new circumstances – and now of course this is really the only choice available to us.

I have been looking back to what I wrote after we finished touring our 'Dancing in Caves' project in 2018, describing our process of constant adaption to new sites and situations as a company, a process of continual renewal in which our fantastic collaborating artists have now developed a very particular expertise.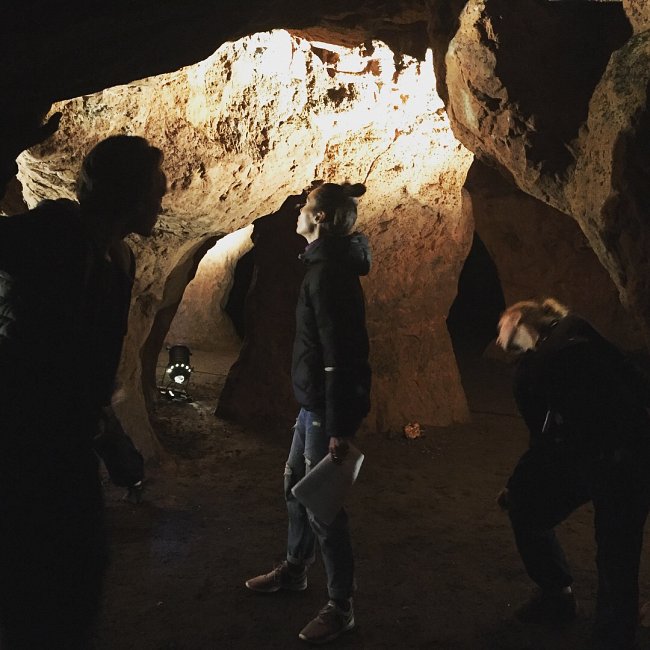 In that blog post I wrote about having to 'wipe the slate clean' each time we begin working in a new place for the Dancing in Caves project, particularly remembering the first time we tried to adapt the Beneath Your Feet performance to a new site. When we moved on from Kent's Cavern to Cheddar Gorge it was difficult - and by that I really mean it was impossible - to make the blackout which came at the end of the Kent's Cavern version (which I loved) work in the new context. In spite of the extensive list of complications, with only 3 days on-site to remake the work, I was still pushing to recreate the original ending, in fact right up until after the first day of performances took place. I really remember the sense of relief when our Producer Kate McStraw arrived on-site with fresh eyes, and just saw straight away that we had to change the end, and that this wouldn't fundamentally change the feeling of the experience that we were trying to create, it would just be different to what it had been before.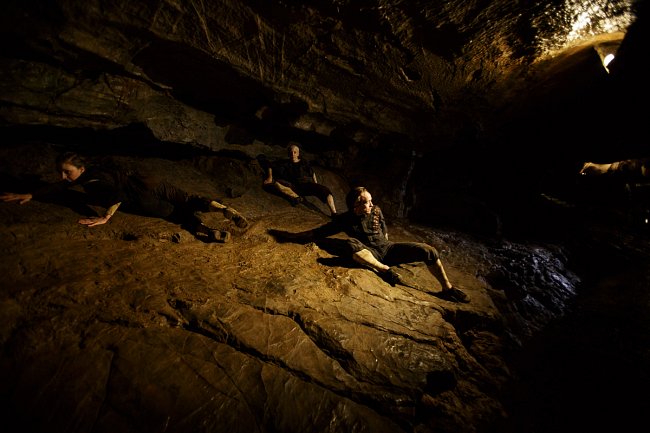 With 'fresh eyes', I really hope that things will begin to fall into place once again for us, and it will feel more possible to consider the significant changes necessary to adapt to this new situation. It is hard at the moment to imagine how what we do might be able to function remotely. But it is not out of the question. As it happens, even before lockdown began, we have been engaging in discussion behind-the-scenes about how digital technologies could potentially enable us to bring our work to people who would be least likely to access our performances in heritage sites in person for example. For the handful of audience members who stood at the top of the 65 steps leading down into Stump Cross Caverns (virtual tour available here) when we performed there in 2018 for example, but couldn't go down the stairs for a range of reasons - could there be some way that we could recreate a sense of the work above ground? It would be a different experience certainly, but through integration of live and virtual elements could something be possible, something that retained the feeling of what we were trying to achieve with the original work?
Next steps
As we reconsider what our work needs to look like/be in the future, funding dependent and in new circumstances, this idea of retaining the feeling of what we were originally trying to achieve, or trying to conserve the things that are most important about what we do will be crucial – difficult, yes, really very difficult, but crucial nonetheless.
Just before lockdown, we were working on our Delight in Libraries project (commissioned by the fabulous Delight Charity) with 5 classes of year 3 and 4 children in primary schools in Spelthorne.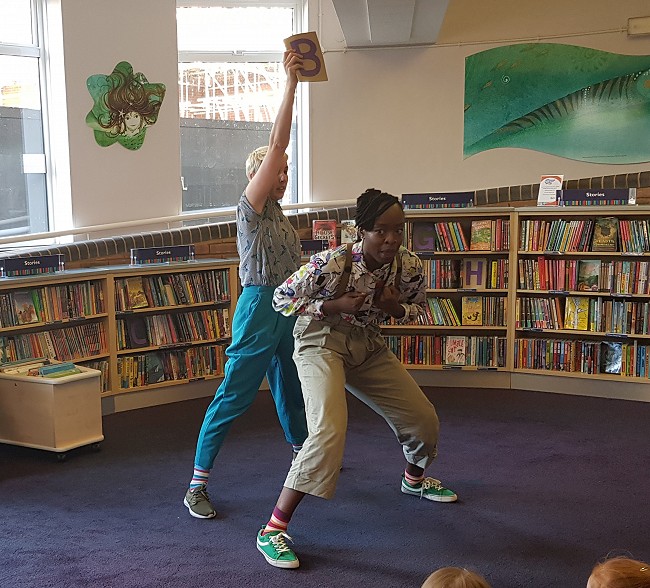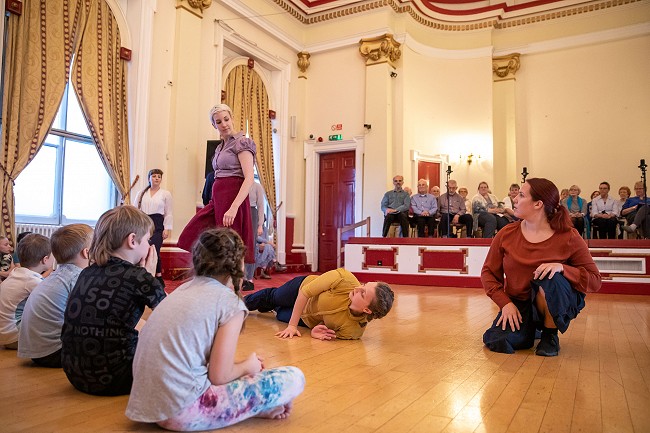 So far, these two most recent projects have really reinforced for us the value of live arts encounters embedded in local communities. They have been created super-responsively to local people so it's almost impossible to predict at the beginning of a project what it will look like at the end, because it's not about what we think it needs to be, it's about listening to what other people say and allowing that to shape our artistic vision for the work.
"this performance was plus, plus, plus, because of the community being involved" (participant feedback)
In the past weeks, pondering what we're going to do next, this commitment to liveness and shared experience has made it especially hard to accept what's going on as a new reality, and to even consider having to adapt the way in which we work, which relies on our capacity to work closely and in person with individuals and groups (including new partners, new audiences, new collaborators/participants) over time. Whatever happens next, it is essential to us to continue to try to (in no particular order):
bring to life the tactility and relatability of artefacts and historical events/ideas that may have been kept out of reach, or feel distant
develop trust with new audiences – to be able to chat over tea and biscuits!
integrate local people's thoughts, stories, feelings into our ongoing development of the piece
move people physically through a site/space that they may or may not know already, in order to draw attention to that site (and sometimes to themselves) differently
use physical interaction between dancers, and between dancers and audience members to express something about what it means to be human
gather audiences, even very small audiences (which is in fact what we're most used to), to share an experience
even when formats and fine details inevitably have to change.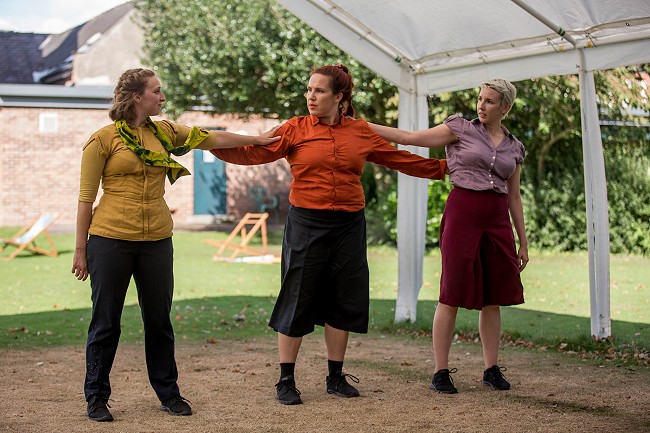 This moment has been a reality-check, in that it has shown up the vulnerability of the position our company has been functioning in for some time i.e. just how challenging it is to do what we do and the breakneck pace it has required. I think this is particularly acute because we're trying to do new things in places where they haven't been done before, with people who maybe haven't seen anything like this, offering opportunities that are free or very low cost for participants.

However, I think it has also shown the kind of work we do to be more vital than ever – work that is for everyone, which can increase enjoyment and confidence, which moves people to think differently, which brings people together.

As we face an uncertain future, and while our access to extraordinary sites remains restricted, our focus will be on continuing to imagine scenarios that may enable us to still provide liveness and connection in a new era of distancing and remote engagement.

So in the first instance we are aiming to reschedule live performances, even if we have to wait and to alter the circumstances of those performances. We would like to transfer as much of the activity that we had planned for 2020 as possible, including everything with community groups, into 2021. This is of course subject to funding, to any future social distancing measures and to what the world looks like in the coming months. We will hopefully talk in more detail about these and any other plans to modify what we're doing in future posts.
Hope
While I can't give forthcoming performance details with any certainty, I do want, and increasingly feel ready, to be part of a movement towards hope, care, communication, connection, creativity, using the resources I do have available to me right now. With this in mind I'm going to start a campaign of 'good news stories' via Twitter, Instagram and Facebook, recollecting our work on the Imagination Museum: Mayflower 400 project over the last 12+ months and also taking the opportunity to draw attention to the great work of other artists and arts organisations that we profile on the imaginationmuseum.co.uk website.
For example, take a look at all of the dance/movement/heritage case studies we've collected together so far here, including a recent addition - the glorious Lowestoft Dance Map project from Glass House Dance in partnership with DanceEast. Their documentary film about the project is a real treat.

Let us know if there's anything you think we could add to our roll call of 'good news' – something you've seen, been involved in or just heard about. Maybe you're involved in a dance/ heritage project now, during lockdown? Have a look at Born and Bred Dance Theatre's #danceforvictory for VE Day supported by Tameside Libraries and Culture.
We'd love to share your story. Send any information or thoughts to katie@madebykatiegreen.co.uk, or just simply join us in sharing the good news.

Thank you for reading this, and take care of yourselves and your loved ones at this challenging time.
Our Imagination Museum: Mayflower 400 project is a Strategic Touring project supported by the National Lottery through Arts Council England, Hampshire Cultural Trust, The Box, West Lindsey, Plymouth, Nottinghamshire, Hampshire County and Bassetlaw District Councils, Pavilion Dance South West, Surf the Wave and The Charter Trustees of East Retford, and also delivered in partnership with the Pilgrim Roots Regional Partnership, Transported, The Point, Plymouth Dance and Plymouth Culture.
The Delight in Libraries project, commissioned by Delight Charity is supported by Heathrow Community Fund and the National Lottery through Arts Council England.